John Tilbury, Zygmunt Krauze: Grand Tour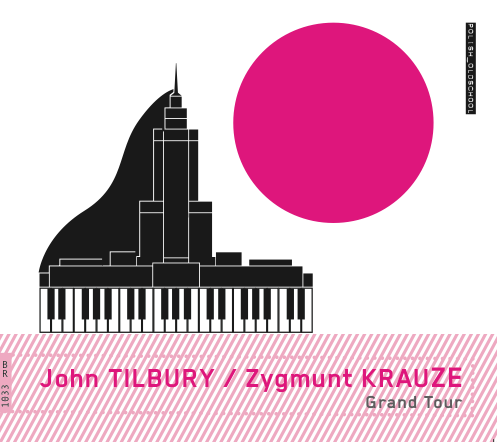 Release Date: I 2016
Total Time: 63:14
2 CD | 12 page booklet | digipack



1. Cornelius CARDEW: Solo with Acompaniment |10:35
2. Terry RILEY: Keyboard Studies #2 |22:36
3. Tomasz SIKORSKI: Echoes II |13:09
4. Christian WOLFF: Tilbury 3 |08:38
5. Zygmunt KRAUZE:One Piano Eight Hands |08:16

Performers:
John Tilbury: piano [1,2,4] upright piano [5]
Zygmunt Krauze: piano [1,2,3,4] upright piano [5]
Szábolcs Esztényi: piano [2,3,4] upright piano [5]
Hubert Zemler: percussion [1,3] upright piano [5]

Tilbury left communist Poland in 1964 and his visits grew rare. He got involved with Cornelius Cardew's Scrath Orchestra and the AMM; later he went on to become known for his performances of Morton Feldman's compositions. Meanwhile Zygmunt Krauze, aside from his work in the Musical Workshop, grew to be his generation's leading conceptual composer, mainly thanks to his reception of Władysław Strzemiński's unism. The worlds of Krauze and Tilbury were sepa- rate, but adjacent.
The Musical Workshop (pl: Warsztat Muzyczny) first four members were pianists: John Tilbury, Zygmunt Krauze, Zbigniew Rudziński and Tomasz Sikorski. The band was an experimental space for all of them: they tried out new techniques both as composers and as instrumentalists. Thanks to Tilbury they had access to all the newest scores. Their concerts went on to shape Poles' reception of the entire Western avant-garde. They were the ones to premiere the works of John Cage, Morton Feldman, Christian Wolff, Cornelius Cardew, Terry Riley and La Monte Young in Poland.
John Tilbury returned to Warsaw in 2015 on a residency. This allowed him and Krauze to meet again. The meeting was not about reuniting the band. Neither was it about making a sentimental journey through time, which had brought about a political thaw in Poland and liberated its cultural life. What the meeting was about is historical policy – returning a special moment in time to the nation's shared memory. That's why it wasn't just Krauze and Tilbury at the meeting – they were joined by the composer and musical interpreter Szábolcs Esztényi (a friend of Sikorski's) and Hubert Zemler, a young percussionist from Warsaw. They played compositions which are meant to a critical reflection on Musical Workshop's legacy.
Daniel Muzyczuk