15 Corners of the World, motion picture sound essay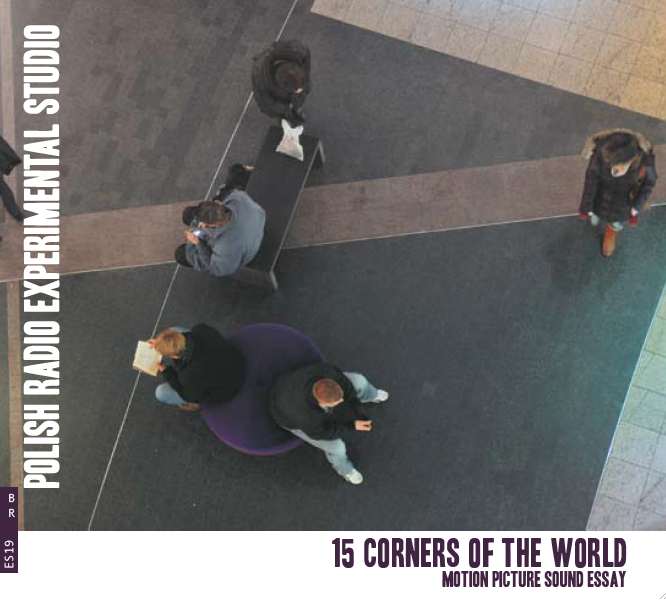 Release Date: X 2015
Total Time: 48:30
CD | 32-pages booklet | digipack



1. INTRO
02. FIZYCZNOŚĆ TASIEMKI / THE PHYSICALITY OF A TAPE
03. TUTORIAL
04. KAMIEŃ JEST MATERIĄ MUZYCZNĄ / STONE IS MUSICAL MATERIAL
05. OŚWIETLAŁEM / I ILLUMINATED
06. REPETYCJE / REPETITION
07. REPETYCJE (MUZYKA) / REPETITION (MUSIC)
08. MASA LUDZKA / HUMAN MASS
09. MAGAZYN SKOJARZEŃ SŁUCHACZA / INVENTORY OF LISTENER'S ACCOCIATIONS
10. MAGAZYN SKOJARZEŃ SŁUCHACZA (MUZYKA) / INVENTORY OF LISTENER'S ACCOCIATIONS (MUSIC)
11. MINIATURA POCIĄGOWA / TRAIN MINIATURE
12. GEST ZAPŁADNIAJĄCY / THE INSEMIMNATING GESTURE
13. WARSZAWSKIE MGŁY – KOLAŻ / WARSAW MISTS – COLLAGE
14. CZYSTE – KRYSTALICZNE / CLEAR – CRYSTALLINE 15
15. STRON ŚWIATA / 15 CORNERS OF THE WORLD
16. EROTOFONIA / EROTOPHONY
17. GŁOS LUDZKI ZDEFORMOWANY / HUMAN VOICE DISTORTED
18. GŁOS LUDZKI ZDEFORMOWANY (MUZYKA) / HUMAN VOICE DISTORTED (MUSIC)
19. ELEKTROŁĄKA / ELECTRO-MEADOW
20. ŚMIECI / GARBAGE
21. FINAŁ / FINAL
22. NAPISY KOŃCOWE / CLOSING CREDITS

The film 15 Corners of the World includes simul- taneous audio and images. Images do not supple- ment the music here, nor does the music simply illustrate the photos. Meanings, senses, feelings, and scenes are created where those two spheres cross. Without vision, there is no "moving of the viewer's imagination, the inventory of his feelings, experiences, and associations", as Eugeniusz Rudnik defines the goal of art in general.
Speaking about vision and sound forces us to find some sort of principle that would allow building comprehensible relations between them. Yet there is no universal principle—there is only the illusion of language that we have created for a single movie. We have built our own means of expression and used them so as to create an emo- tional and intellectual narrative. In that way, we have found images that have blended irrevocably with the music. Therefore, is the sound essay 15 Corners of the World incomplete? How does it relate to the movie?
The essay is open to interpretation. It allows you to close your eyes and trigger your own screening. It is a test of the visual potency of Eugeniusz Rudnik's works. Have we, the movie's authors, been the only ones to hear so much vision in it? Find out for yourself.
Zuzanna Solakiewicz